Electronic Document Management System – "Portal of the Board of Directors"
Participation of the Directors in Meetings of the Board of Directors in 2019
Director
In-person meeting
In-absentia meeting
Antonios Theodosiou Antoniou

Elected as a member of the Board of Directors on June 27, 2019.


Independent Director,
not a member of MTS PJSC executive management
6/6
3/3
Feliks Vladimirovich Yevtushenkov

Elected as a member of the Board of Directors on June 27, 2019.

6/6
3/3
Artyom Ivanovich Zasursky
9/9
7/7
Aleksey Borisovich Katkov
9/9
7/7
Aleksey Valerievich Kornya
9/9
7/7
Vsevolod Valerievich Rozanov
9/9
7/7
Regina Von Flemming
Independent Director,
not a member of MTS PJSC executive management
9/9
7/7
Thomas Holtrop
Independent Director,
not a member of MTS PJSC executive management
9/9
7/7
Valentin Borisovich Yumashev

Elected as a member of the Board of Directors on June 27, 2019.


Independent Director,
not a member of MTS PJSC executive management
6/6
3/3
Ron Sommer

Powers of the Board of Directors member terminated on June 27, 2019.

3/3
4/4
Stanley Miller

Powers of the Board of Directors member terminated on June 27, 2019.


Independent Director,
not a member of MTS PJSC executive management
3/3
4/4
Wolfgang Schussel

Powers of the Board of Directors member terminated on June 27, 2019.


Independent Director,
not a member of MTS PJSC executive management
3/3
4/4
Duration of Meetings of the Board of Directors and Committees in 2019 (in presence)
Meetings
(in presence)
Number
Average duration (h)
Board of Directors
9
2.5
Audit Committee
13
1.5
Remuneration and Nomination Committee
9
1.5
Corporate Governance Committee
2
1.2
Joint meeting of the Corporate Governance Committee and the Remuneration and Nomination Committee
2
1.2
Strategy Committee
8
2
Budget Committee
7
2
Special Committee
4
1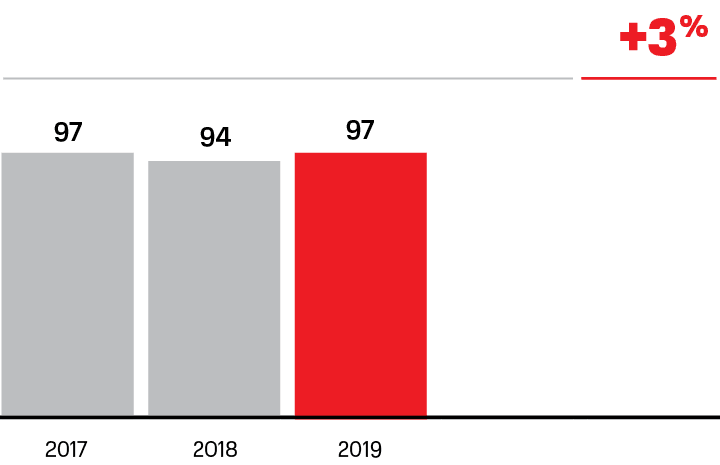 Significant Items on the Agenda of the MTS PJSC Board of Directors Meetings in 2019
MTS Group Strategy for 2020–2022.
Review of the results of MTS Group budget fulfilment for 2019, on MTS Group budget adoption for 2020.
Board of Directors recommendations on dividend payment for 2018, the first half of 2019, 9 months of 2019.
Acquisition of subsidiaries, participation of MTS PJSC in other organizations.
On the approval of the repurchase price of MTS PJSC shares.
Approval of loan agreements between MTS PJSC and Sberbank PJSC, VTB Bank (PJSC).
On increasing the share of MTS PJSC in MTS Bank PJSC.
On acquisition by MTS Group of up to 100% capital of MTS Armenia CJSC.
On the termination of MTS PJSC participation in OZONE HOLDINGS LIMITED.
On the sale of the telecommunications business in Ukraine (VF Ukraine PrJSC).
On the creation of the Special Committee under the Board of Directors.
On the dividend policy of MTS PJSC.
On organizational changes.
On the procedure for using MTS PJSC logo and other elements of MTS PJSC visual identification.
On the TV development strategy of MTS PJSC.
On the concept of MTS PJSC investments in high-tech companies.
On the results of consultations with investors about the optimal structure of MTS PJSC listing.
On the registrar of MTS PJSC.
Review of reports:

on risk management;
on the development of the Unified Compliance System;
on the implementation of the KSO program;
on the assessment of completion of individual tasks by the President and Management Board members;
on the business status of essential subsidiaries of MTS PJSC;
on the results of the assessment of the performance of the MTS PJSC Board of Directors; and
on the operation of the units of internal audit, control and compliance, including the report on the efficiency of the risk management system.
In 2019, the Board of Directors issued 62 instructions to the management of the Company.
Members of the Board of Directors receive informationon the status of completion of Board's assignments at each in-person meeting.
Proper completion of the Board of Directors' assignments is one of the conditions for rewarding the Company's personnel.